Re-posted from original piece on MovingSF
Staci Morrison
Monday, November 16, 2015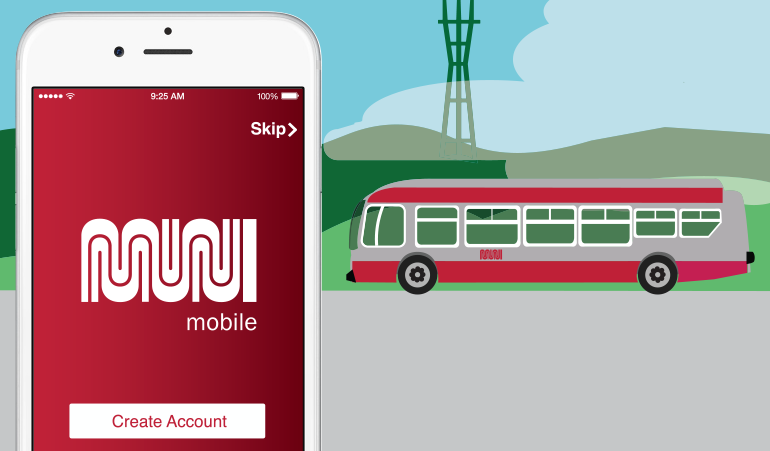 Happy MuniMobile Monday! We are excited to announce the launch of MuniMobile, our new app that allows you to purchase Muni bus, rail and cable car tickets right from your phone.
This morning, we officially launched the app at Powell Station, a key transportation hub with Muni Metro, the F Line and Cable Cars all passing nearby. For downtown visitors, our friends at the San Francisco Travel Visitor Information Center were also on hand to offer their expertise on how to get to the best spots within our 7×7 miles via Muni.
Muni has long been a popular subject of transit apps in the city, but MuniMobile combines NextMuni arrival information and ticketing.
The MuniMobile app is available in the iPhone App Store and on Google Play for Android. To make sure you find the official one, note the full Muni worm in the app thumbnail and that "MuniMobile" is one word.
Once you download the app, you're all set to purchase your tickets and get on your way. Remember to activate the ticket when you board or enter a paid area. Your phone is your fare — be ready to show the active MuniMobile screen as your proof of payment.
As the name implies, MuniMobile is specific for the Muni transit system. Mobile tickets work through visual validation by SFMTA staff so to board or enter metro faregates, flash your phone screen to the vehicle operator or station agent. With visual validation there's no tapping at the gate.
For the full scoop, FAQs on how the app works and how to use it, head over to sfmta.com/munimobile.
Help us transition Muni successfully into the app age and begin using MuniMobile today! Then share how it works for you. This is a pilot program so your feedback is in integral part of evaluation and further development. This could be the beginning of a beautiful relationship.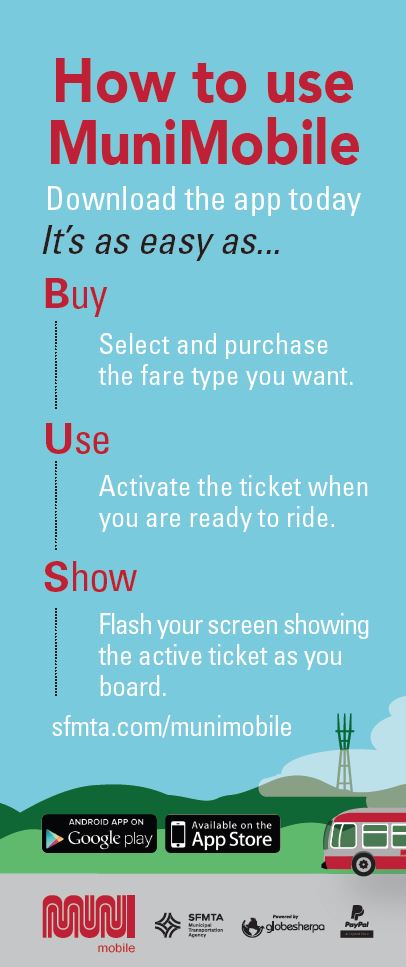 SFMTA Ambassadors greeted Muni riders to provide tips and answer questions this morning to announce the new app.
Written for publication on Moving SF, SFMTA blog.